Hello! What are the most common problems my VOGA Styling customers or blog readers have? I'm going to write about that now and of course I should also give the answers and hopefully the solution to these problems, because the chance is that even some of you have the same thoughts.
This post will be divided into four headings and thus four posts, first out we have How to combine colors. You will find the following topics that are coming up at the bottom of the post.
Hej på er! Vad är vanligaste problemen som mina VOGA Styling kunder eller bloggläsare har? Det tänkte jag nu skriva om och självklart ska jag även ge svaren och förhoppningsvis lösningen på dessa problem, för chansen finns ju att även nån av er har samma funderingar.
Det här inlägget kommer att delas in i fyra rubriker och alltså fyra inlägg, först ut har vi hur man kombinerar färger. Följande ämnen som är på kommande ser ni längst ner i inlägget.
HOW TO COMBINE COLORS?
Afraid of standing out or afraid of combining colors wrong? You shouldn't be afraid of wearing color since when you combine colors nicely it can take your outfit to the next level. It makes your outfit look more well-planned and even looks slightly more luxurious. Here are my best tips on how to combine colors!
A simple trick if you are afraid of color is to start in the basic wardrobe. Start with a safe card such as black pants, and a white blouse. Now say you like the color pink. Pink and burgundy are for example a nice color combination. Add a pink cardigan, a scarf containing the colors pink and burgundy and wear a pair of burgundy shoes.
If you are afraid of strong colors, you can always start by combining the neutral colors such as black, white, gray, beige, dark blue and brown. One example could be matching white, beige and brown. Brown pants, white blouse, beige cardigan with white shoes. The secret, however, is that some of the colors appear in several places on the body. See example below.
HUR SKA MAN VÅGA MERA FÄRG? HUR SKA MAN KOMBINERA FÄRGER?
Man är rädd för att sticka ut eller så är man rädd för att kombinera fel. Men rädd för färg ska man aldrig behöva vara då att kombinera färger snyggt kan vara det som lyfter din helhet till nästa nivå. Som gör att ens helhet ser mer välplanerad ut samt till och med ser aningen lyxigare ut. Här kommer mina bästa tips på hur man kan kombinera färger snyggt!
Ett enkelt knep om man är rädd för färg är att börja i basgarderoben. Börja med ett säkert kort som t.ex. svarta byxor, och en vit blus. Säg nu att du gillar färgen rosa. Rosa och vinrött är t.ex. en fin färgkombination. Addera då t.ex. en rosa kofta, samt en scarf som innehåller färgerna rosa och vinrött och sätt till ett par vinröda skor.

Är du rädd för starka färger kan du alltid börja med att kombinera de neutrala färgerna så som svart, vitt, grått, beige, mörkblått och brunt. Ett exempel kunde vara att matcha vitt, beige och brunt. Bruna byxor, vit blus, beige kofta med vita skor. Hemligheten är dock att nån av färgerna gärna får dyka upp på flera ställen på kroppen. Se exempel nedan.

3. A good trick when combining colors can be to always think of a single-colored garment and a patterned one. For example, if you have a pair of patterned pants, you wear a one-colored top with the pants, and the color should of course also be found in the pants. Or if you have a patterned blouse then you run on a solid color scarf that picks up some of the color in the blouse.

Ett bra knep när man färgkombinerar kan vara att alltid tänka ett enfärgat plagg samt ett mönstrat. T.ex. om du har ett par mönstrade byxor så kör du en överdel som plockar upp nån av färgerna i byxorna. Eller om du har en mönstrad blus så kör du på en enfärgad scarf som plockar upp nån av färgerna i blusen.


Bildkälla: Zalando
Sometimes the best thing is to just go crazy with colors and patterns! One pattern on the blouse and another on the bottom. The key here is that the colors have the same strength.

4. Ibland kan det bästa vara att bara smacka på en blus och ett par byxor, båda i olika sorters mönster samt i flera olika färger. Nyckeln här är att det behöver vara samma styrka i färgerna.
5. Finally, we have the color wheel which can be very useful if you find it difficult to see for yourself which colors fit together.
The color wheel includes primary colors (red, yellow, blue, ie the basis of all other colors). Analogous colors (see picture below) which are therefore nice to combine together (about 3 different colors) for a luxurious and "merged" feeling. Complementary colors,  the opposite colors that lift each other and give an interesting look.
5. Till sist har vi färghjulet som kan vara väldigt användbart om man har svårt att se själv vilka färger som passar tillsammans.
Färghjulet innefattar primära färger (röd, gul, blå, alltså grunden till alla andra färger). Angränsande färger (se bild nedan) som alltså är snygga att kombinera tillsammans (ca. 3 st) för en lyxig och "ihop smält" känsla. Kompletterande färger, alltså motsatsfärgerna som lyfter varandra och ger ett intressant intryck.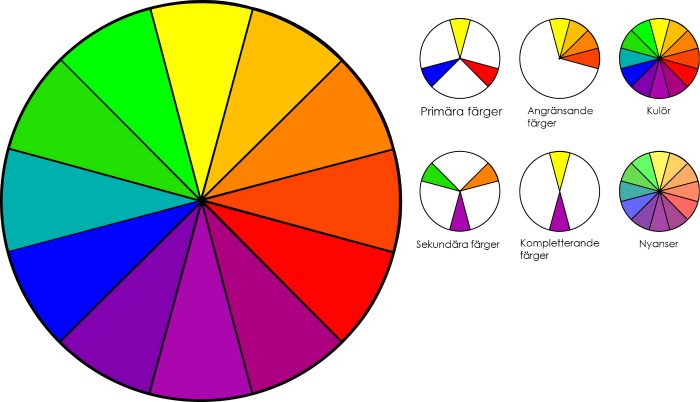 Upcoming headlines!
WHAT'S THE SIGNIFICANCE OF DIFFERENT COLORS AND WHICH COLORS GOES BEST TOGETHER?
I'M ALWAYS WEARING BORING CLOTHES, TROUSERS AND SHIRTS. HOW TO DRESS MORE INTERESTING?
WHAT TROUSERS ARE TRENDY RIGHT NOW? WHAT FIT AND LENGTH?
---
Kommande rubriker jag kommer att skriva om!

VAD HAR OLIKA FÄRGER FÖR BETYDELSE OCH VILKA FÄRGER PASSAR BÄST TILLSAMMANS? VILKA FÄRGER PASSAR MIG?
JAG KLÄR MIG ALLTID SÅ TRÅKIGT, I BARA BYXA OCH TRÖJA.
VAD SKA MAN HA FÖR BYXOR JUST NU? VILKEN PASSFORM OCH LÄNGD?
Läs mer här:
Vad klär man sig i till dopkalas?
If you liked this post, feel free to save it to pinterest! 
1